Safeguarding Team
Designated Safeguarding Lead:
Mr David Evans (Headteacher)
Deputy Safeguarding Leads:
Mr John O'Leary (Deputy Headteacher)
Mrs Ruth Sheard
Mrs Jenny McCormick (SENCO) - (Designated LAC teacher)
Mrs Amy Harrold (Acorns)
Safeguarding Governors:
Evonne Williams (Chair of Governors)
Sue Pringle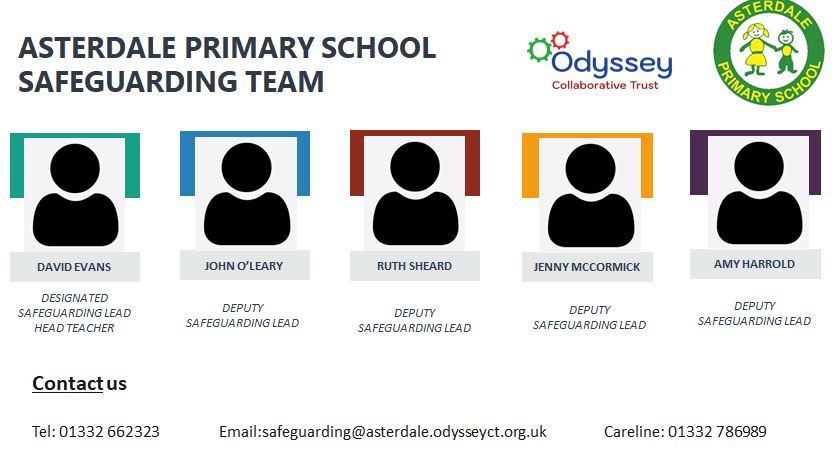 Designated Safeguarding Lead
THE DESIGNATED PROFESSIONAL SAFEGUARDING LEAD (DSL) is a senior member of the school's staff team who is designated to take lead responsibility for dealing with safeguarding issues.
The role of the DSL for Child Protection is to take responsibility for dealing with child protection issues, provide advice and support to other staff, liaising with the local authority and working with other agencies to ensure all children at our school are safe.
Safeguarding Concerns
If you have any concerns regarding the safety of a child, please contact school on 01332 662323. During out of school hours including holidays and weekends, please email: safeguarding@asterdale.odysseyct.org.uk. We will endeavour to reply as soon as possible. The Safeguarding Leader on duty will always monitor this email account and respond to emails over the holiday period from parents as well as professionals regarding safeguarding issues.
Alternatively, you can contact Derby City Careline on 01332 786968.
At Asterdale Primary School we are committed to supporting all of our children to do well. We will do everything we can to ensure our children are safeguarded and protected from harm.
If you are you worried about a child?
If you have concerns that a child is being harmed or living in circumstances that might be harmful in the future, these concerns will always be taken seriously.
You may be worried about what might happen to you or your family if you report your concerns. When someone makes a call to talk about their concerns, they will always be asked for their name and contact details - so they can be contacted again if needed. However, you can ask for your details to remain confidential, or provide information anonymously.